Automate and Transform Your
HR Processes
Eliminate time waste, maintain compliance, and grow and empower your team with one solution and employee record to handle it all.
Stop repetitive tasks from dragging you down
Custom Workflows & Automation
Easily model your current processes and policies with flexible and visual drag-and-drop tools.

Save time on routine tasks such as approvals, changes, updates, and more.

Reduce compliance risk by eliminating manual and redundant data entry.

Create custom forms to streamline data collection.
Access critical insights when you need them
Real-time People Analytics
Create comprehensive reports and track key metrics without needing advanced technical skills since all employee data is stored in one location.

Gain predictive and prescriptive insights for both managers and employees with robust reporting capabilities powered by AI and machine learning.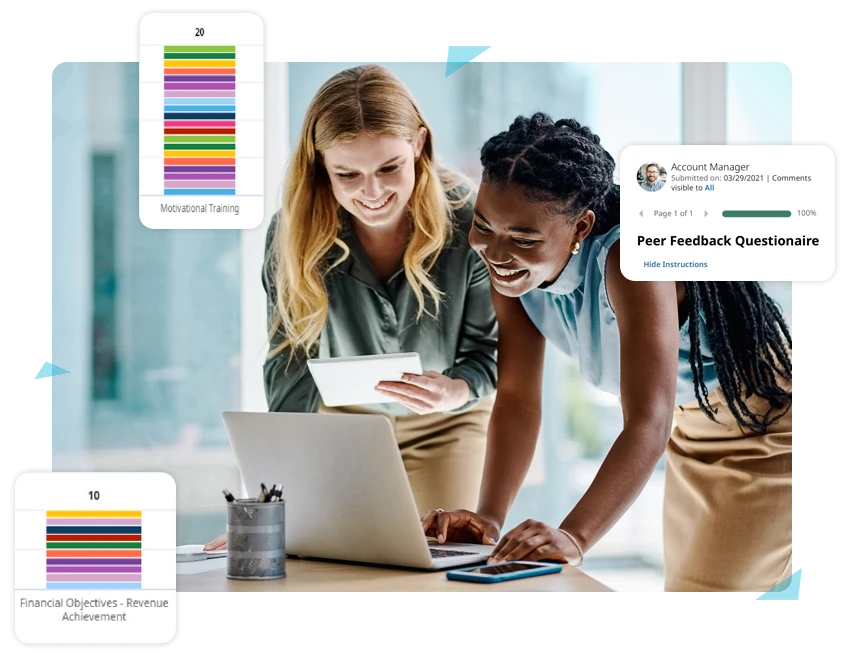 Strengthen your culture, values, and people
Streamlined Performance Management
Create and assign performance reviews, ratings, goals, and feedback forms.

Use flexible workflows to automate notifications, reminders, approvals, and more.

Gain greater insights into performance, goal progress, and skills gaps.

Give employees and managers the ability to view and complete reviews, track goal progress, request and provide feedback, and more.

Provide focal, annual, and 30/60/90-day reviews along with unlimited nine-box matrices, talent pools, and succession slates.
Establish one source of truth
Single Employee Record
Reduce duplicate data entry and time spent chasing down employee info.

Save money by consolidating all your HR processes into a unified solution.

Avoid errors and inaccuracies that occur with disparate systems.

View scheduling, leave tracking, compensation, benefits administration, and more in one place.
Stay on top of all things regulatory
Compliance Management
Leverage a built-in compliance resource library for easy-to-understand breakdowns of laws and regulations.

Maintain compliance with the latest regulation changes with automatic compliance updates.

Reduce the risk of costly fines with automated ACA tools for seamless reporting and filing.

Rely on our robust rules engine to ensure regional and local employment laws are being adhered to and receive proactive alerts when they're not.

Access the latest governmental forms for EEOC, FLSA, FMLA, OSHA, VETS, and more within the platform.
Our top 10
Additional Features & Functionality
HR document storage and retrieval tracking

Employee directories and company org charts

Position control and budgeting

Asset management

Automated step and grade pay schedules

Mass editing tools

Incident tracking and management

Workers' compensation tracking and management

Goal, competency, and core value libraries

Multiple manager reviews
Watch These Quick Overview Videos
Explore Your Human Resources Capabilities with Inova HCM